Developer Gerding Edlen is proposing a nine-floor mixed-use building; dubbed as the Janey II in the Pearl District. The location is block 78, at NW 11th Avenue and Everett St. Currently the site is an abandoned one-story warehouse constructed in 1906. The neighboring original Janey project was completed in September 2012, and was just six floors and 50 apartment units. The Janey II will be 62 market-rate apartment units at nine floors.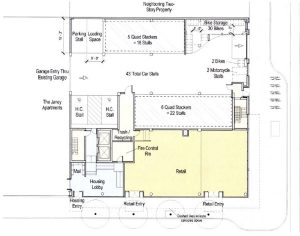 Like the Janey I — the new building will include 47 mechanized vertical parking spaces. Also on the ground level will be an additional 2,5000 square feet of retail space; with main entrances on NW Everett St. Retail spaces will showcase steel canopies and exposed wood soffits. The resident lobby will also be located on NW Everett St.
The project will include 32 bicycle parking spots and two motorcycle stalls.
With nine floors, the Janey II will include outdoor spaces on select floors.  Exterior decks are on levels two and eight; the decks are mostly commons spaces, such as, a fitness room and rooftop amenity room.  The rooftop terrace will feature clear glass safety railing all around, and is Northern facing towards some of the Pearl District's finest urban art. Some select units on level eight will have private terraces.
Exterior finishes will match the Janey I entirely. Everything from the same brick color — to the bronze aluminum windows — the Janey II will blend nicely with its Pearl District neighbor. Some may even think they're the same building.
PS. The Janey II was first proposed in September 2012 with 80 apartment units. Read our previous coverage here.