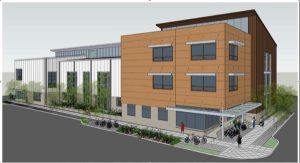 Demolition is wrapping up in the Northern Pearl District to make way for an indoor rock climbing arena. The previous site, a 106-year old warehouse was being used as storage. The new 30,000 sq.ft. facility will house a three story climbing area, yoga and fitness studios, and full service locker rooms. Demolition started on June 14th, and finished six weeks later.
The company behind the rock climbing development is Planet Granite Climbing Yoga & Fitness. To date, the company has four locations all under 28,000 sq.ft. in Oregon and California. The Pearl District location will be the group's largest and most advanced.
Plans include, "60 foot high walls, top out bouldering, two beautiful yoga studios, complete fitness and cardio areas, and a variety of training tools," says Planet Granite's website.
To commerce the Pearl District community, a statement was released, "We look forward to being part of the already thriving Portland climbing community in concert with the other local gyms." Although the gym is not expected to open until sometime in 2014, we recommend you follow their Facebook page for updates on the construction progress.