Portland's Northern Pearl District is growing up. "It's so nice to see the north end of the Pearl starting to fill in," – said a downtown resident online. According to my research below, an estimated 1,308 apartments are proposed or under construction in the northern Pearl District. The areas's first hotel is also under construction – with 225 extended stay rooms – it's expected to open in April 2014, and will accommodate visitors to the Pearl District.
Too much Retail? Not enough?
With the northern Pearl kicking off strong, some residents worry about too much proposed retail space. This is based off the assumption current retail spaces at both the ASA and Wyatt buildings has been sitting empty for years. Experts believe destination retail, such as a large retail giant, would fill the area with more pedestrians and small business success. Although some of these proposed projects below do not include retail space at all, such as The Parker.
Below are projects either being proposed or under construction.
Note: Click images to view full size.
Northern Pearl District – Proposed or Under Construction Projects:
 Pearl Block 17 – Under Construction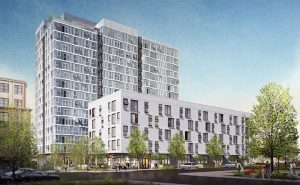 Hoyt Street Properties is developing Pearl Block 17 without its normal counterpart, Joe Weston. The tower is slated to be 16-levels high, and contain 280 market rate units. The community will include 280 below grade parking spaces, ground floor walk-up units, and a roof top deck utilizing 1,000 square feet of terrace. The Pettygrove Green Steet will be included in this project.
Park Central – Proposed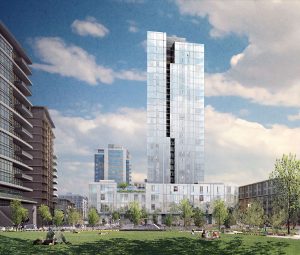 While previously known as, "North Point Tower," this project is being developed by Hoyt. The tower is slated to include 165 units and could be as tall as 28 floors. Last I knew, the group was trying to  get some zoning height changes to reach upwards of 350 feet tall. The tower would sit well in between both Tanner Springs Park and The Fields Park, and that's how it became known as Park Central. The location is quite possibly one of the Pearl's best. Most experts believe this building will be sold as condos, as the near by Hoyt property The Encore is almost sold out.
Cash & Carry – Proposed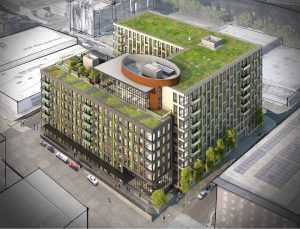 Located at NW 13th Ave and Pettygrove, this proposed 8-story residential building sits on the former Cash & Carry site. The building would have 269 mixed-use apartments, 200 below grade parking spaces, and long-term bicycle parking spaces. The design emphasizes public space; including both a public courtyard and roof top deck. The project would include the Pettygrove Green Street improvements.
The Abigail – Proposed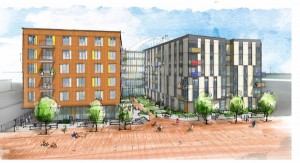 The Abigail will be the Pearl District's next affordable housing community. The project proposal includes 142 apartments, 6-story structure, child friendly courtyard, laundry on every floor, secured bike parking, and ample storage closets. The developer, BRIDGE, is excited to make a splash into Portland through this project. Affordable housing is a personal favorite of mine, because it brings diversity.
Courtyard Marriott – Under Construction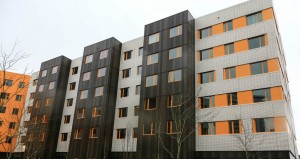 The Courtyard Marriott is the Pearl District's first hotel. The 225 room "Extended Stay" hotel will accommodate visitors of the Pearl in an orange statement. The modern building is unique from the rest of the neighborhood, as its bright orange color makes a statement. The biggest significance of this project: no parking is available; they're renting part of the next door SmartPark for $100,000 per year. The hotel is expected to open in April 2014.
The Parker – Under Construction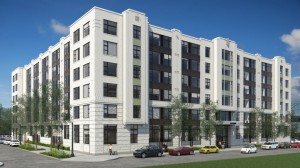 The Parker Apartments will include 177 "luxury" units, a six story mid-rise structure, below grade parking spaces, central locked courtyard, and a brick and cement board facade.  Developer Robert Ball made this project the beginning of his comeback, "I've been sitting back until I felt the time was right to get back into the marketplace," Ball said to the Oregonian.  You may recall Mr. Ball as a prominent Pearl District developer. 

The Overton – Proposed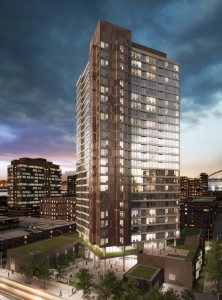 The Overton Apartments, although the design has changed quite a bit from the first proposal, we think the general facts aren't changing. Those facts are 275 housing units, 271 parking spaces, 26-story tower, ground level retail, and bicycle parking spaces. The tower's design now features a pedestrian friendly courtyard; which includes townhouse style units surrounding. This project was first criticized as being 1970s design, and auto friendly (rather pedestrian), but has sense changed to reflect the neighborhood.
Irving and 14th Office Building "Pearl West" – Proposed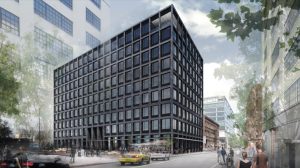 Pearl West is a 9-story office tower being proposed at NW Irving and 14th avenue. The design showcases 167,000 sq. ft. office space, 3-story below grade parking, ground level retail, and ample bicycle parking. The site is conveniently located right off I-405; commuters would be able to access the building well. The dark brick façade is supposed to compliment the neighboring buildings, but we'll see as more renderings become available.

Other Pearl District Renovations
Powell's Renovation – Under Construction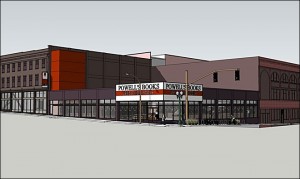 The Powell's book store renovation is primarily a voluntary seismic upgrade. Among other upgrades are exit stairs for parking garage, exterior color changes, fire sprinkler upgrades, and window replacements here and there. The original sign will be salvaged. The intersection at Burnside and 10th avenue is said to be one of Portland's busiest crosswalks, so Powell's decided to widen the sidewalk on their side (no more details are available at this time).  

Pacific Northwest College of Art – Under Construction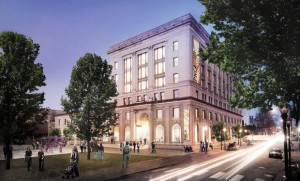 Pacific Northwest College of Art is hard underway to transform the former post office into a world-class campus hub. The additional space will add 134,000 square feet to the campus, and provide enough capacity to grow their student body by up to 1,000. The building will be dubbed, "Arlene and Harold Schnitzer Center for Art and Design." And is inspired by the lofty ceilings and open spaces.